Atlanta HUD Foreclosures
Why HUD foreclosures?
Owner/Occupants get priority over investors in the first 12 days on the market. That means less competition

Bidding period is open for 12 days. That means that you have time to visit the properties and figure out what you want to offer on it.

Property condition reports available online. HUD does full inspections on all properties and makes the reports available online.

Repair estimates given for the problems they find during their inspection. Can finance up to $5000 with an FHA loan.

$100 down if you use FHA financing

Can get it inspected anytime. There are no short due diligence periods where you rush around trying to beat a deadline.

If repairs are more than $5000, you can use a FHA 203K renovation loan.

No appraisal issues with FHA loans. FHA uses the list price.

Online bidding. If you lose the bid you can see what all of the other bids were.
My name is Tim Maitski with Atlanta Communities Real Estate Brokerage.
I am a HUD registered agent, which you need in order to place an online bid on a HUD property. All HUD agents also have special HUD keys that allow them access to show buyers any HUD home on the market.
Step #1 is to search for properties at

This is the main site where all HUD home foreclosures in Georgia are listed and updated. HUD also then has each home listed in the GAMLS but from my experience, they don't got updated there very quickly on GAMLS. So the HUDpemco site is the go to site for accurate information.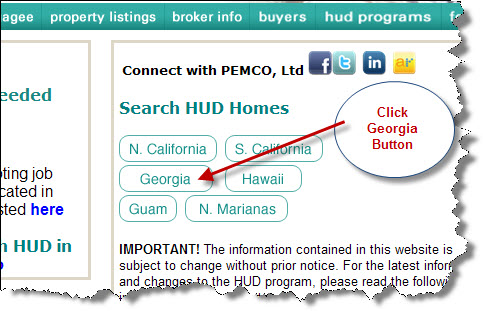 New listings get posted first thing on Wednesday morning. You can search for new ones by selecting "new listings" from the Property Status list. This will pull up all the listings that have just been entered into the system that have a 12 day time period to submit your bid. It also will pull up all the new properties from the previous Wednesday which will have until the next Sunday for bids to be submitted.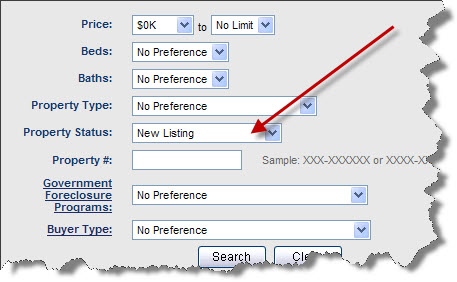 You'll get a list of homes with a picture of each. Some of them will have a so called "virtual tour" which is just a slide show of pictures. Click through to the detailed page for a property and you'll see some important details.
The most important link to find is the link for the Property Conditions Report. If you don't know what you are looking for you'll never find the link. It's the little link "here" that you need to click. It will take you to a page where you'll need to click "view property condition report"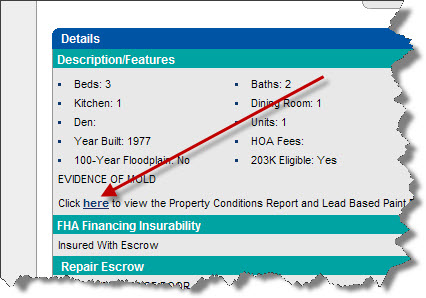 Going back the the property detail page, you'll see the repair escrow with an itemized list of repairs that are necessary and the estimated costs of each repair. This doesn't mean that they are giving you any kind of allowance for these. If you are getting an FHA loan you will need to place that amount of money in escrow and take care of those items right after closing. FHA will also allow you roll those repair costs into your FHA mortgage.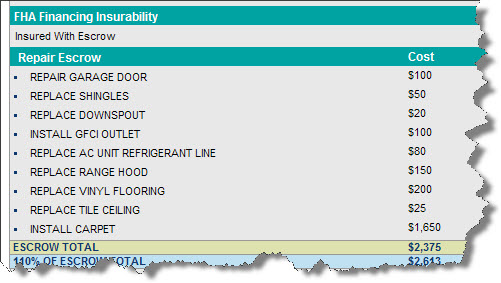 Any property that needs more than $5000 in repairs will say that it is "uninsured". All that it means is that you can't get a regular FHA loan because of that. You can still get conventional financing and you can still get a FHA 203K renovation loan. Some people mistakenly think that "uninsured" means something about getting property hazard insurance on it and get scared off by that "uninsured" term. Again, it just means that it has at least one dollar more than $5000 in needed repairs. It means nothing more.
Once you find some properties that you are interested in, give me a call and I can meet you there to show it to you in person. There's nothing better than checking it out in person.
We can also check out other homes that are on the market in the area to get a better feel for whether or not it is a good deal.
We can also run a report to see what homes have been selling for in the area.
If you are ready to place a bid, we can do that pretty quickly online. We just need a few items such as your social security number and the bare basics of the offer. If your offer gets accepted, you'll have 48 hours to deliver the complete, signed contract along with earnest money to the HUD office in Midtown. If you don't deliver the contract in time, the property goes back in the system for a new round of bidding.
The morning after the bid deadline, you can find out whether you won the bid or not and see all the bids that were submitted. Click the "Buyer & Broker Info" tab at the top and then click "Search Offer Results". Just type in the property number in the box and you pull up the results.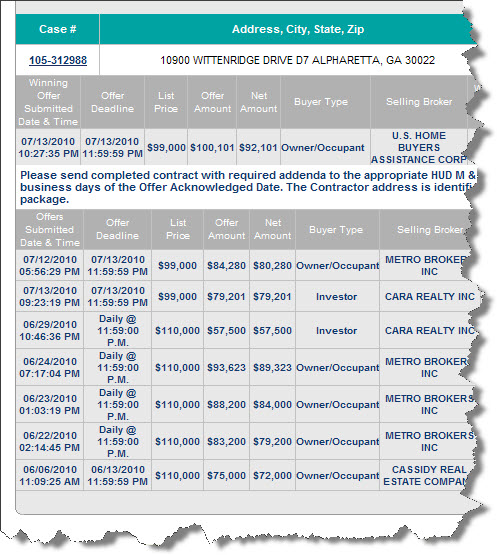 Notice the bid on 6/24/2010 above. The net to HUD was 81.2% of list price. That apparently wasn't "acceptable". They then reduced the price to $99,000 which netted them 93% of list price.
HUD will go over all the bids right after the bid deadline and see if there are any "acceptable" bids. If none of the bids are "acceptable", they'll get the property back online and it will go into daily bidding. That just means that they will check for "acceptable" bids at the end of each day.
The question then is "What is an acceptable bid?".
They don't tell you that. But after you review hundreds of property bid results and if you know the HUD policies in other departments, you can get a pretty good idea where you need to be in order for your bid to be "acceptable". It's all about being within their required percentages of list price and how long a property has been on the market. If bids don't come in that are acceptable, eventually they will lower the price and then a bid that wasn't within the required range before will all of a sudden be "acceptable".
If you have any questions, please call me.
Tim Maitski
Atlanta Communities Real Estate Brokerage
404-216-0472
Search, Learn & Save
Get the best mortgage
Paul Cook, Post Creek Mortgage 678-631-3217
Choosing how to hold properties
Larry Feldman, real estate attorney
Popular Pages
Recommended Professionals:
Atlanta Home Loans
Get pre-approved and shop rates
Where We Do Business
Our market area is in the north metro Atlanta area. We service Cobb County, north Fulton County, Dekalb County, Forsyth County and Gwinnett County. We are very familiar with Sandy Springs, Dunwoody, Marietta, Roswell, Alpharetta, Buckhead, and Midtown.
We have sold homes inside the perimeter and outside the perimeter. We can't know everything so for clients who want to look for property in Peachtree City, Newnan, Stone Mountain, Douglasville, Macon and areas further out we will gladly recommend a good agent who specializes in those areas.
We help buyers negotiate with builders for residential new construction houses. New houses in Atlanta are hot right now. We can represent you in the purchase of your new house built by any of the following builders: Torrey Homes, MDC Homes, Centex Homes, Pulte Homes, Morrison Homes, Ryland Homes, John Wieland Homes, Winmark Homes, Meridian Homes, John Willis Homes, Benchmark Homes and many more home builders.
We can help clients find short term apartments for rent but normally we don't work with clients who are just looking for rentals. We do help clients find Atlanta condos. We can also help you purchase HUD homes in Atlanta. We are an authorized agent with them and have the HUD key to get into HUD homes. We have access to foreclosure homes that banks want to sell.
We love showing executive homes and luxury homes. We always like to know how people find our site. Send us an email and tell us which search term you used. Some terms that we might be found by are realty Atlanta, Ga homes, Atlanta realty, condos Atlanta, Atlanta realestate, Atlanta property, houses Atlanta, Atlanta realtors, Ga houses, or realtors Atlanta. Maybe you found us by typing in Atlanta MLS listings, or Atlanta MLS search, or MLS Atlanta GA. Hopefully we don't come up under nursing homes or funeral homes.
It is always amazing to me how the Internet can allow total strangers to find each other and build new business relationships. It truly is becoming a small, interconnected world.
Popular Pages
Earn Money and Have Fun
Atlanta Paid Focus Groups
Chicago Paid Focus Groups
Dallas Paid Focus Groups
Boston Paid Focus Groups
Houston Paid Focus Groups
Free Government Cell Phones