Stucco, LP, Poly what? Are these really bad products or just a lot of hysteria? Probably a little of both. Some things can be dealt with and some can't. Sometimes it doesn't matter what the truth is anyway. If enough people perceive it as a problem you will have a problem when it comes time to sell your home.
Synthetic Stucco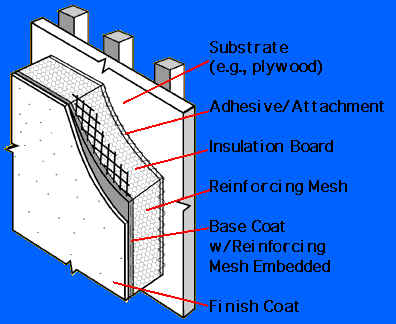 There has been much press about stucco homes ever since NBC Dateline aired a feature story in the spring of 1999
The first thing that one needs to know is exactly what "stucco" is. Is all stucco the same? Exactly which stucco has been having the problems?
Read the following links for some easy to understand explanations:
http://www.nahb.com/housing_issues/eifs.htm
http://www.gahi.com/eifsoutline.htm
Of course the synthetic stucco manufacturers have their side of the story.
http://www.eima.com/
The real cement stucco has probably been given some undeserved stigma due to the problems with synthetic stucco. Go to their site to understand the difference better.
http://www.concretehomes.com/
The other problem with synthetic stucco is that the foam board behind the stucco can be a easy conduit for termites to enter your home. If the stucco and foam board extend below the earth, the tell tale mud termite tubes can go undetected. That's why pest control companies now will require the stucco to be cut at least 6 inches above the grade. This can be quite expensive, might not look very nice and maybe harm the integrity of the system.
Summary:
There's still a lot of controversy out there about synthetic stucco. The most important thing is to make sure you get a complete stucco inspection so you know if a water problem exists. Then it's important to make sure you do annual inspections to identify and repair problems before things get bad.

Real stucco is much different from the synthetic stucco but I would take the same precautions.
How about resale value? Right now stucco homes probably are selling at a discount to brick homes. So you probably can buy them at a discount. When you go to sell you'll probably have to sell at a discount. The hysteria seems to have settled down quite a bit and it seems like more people are much more rational about the situation.
If I loved a home, I definitely would consider stucco but only after getting a good inspection. I would want to know exactly what the problems were and where the potential problems could develop. We have a great stucco inspector that we can refer you to. She will set you straight about all the issues and tell you what needs to be done.
Polybutylene Pipes
There's still not a clear consensus about whether or not polybutylene is a real problem or not. If you're trying to sell your home which has polybutylene you're probably in denial. Agents will say only the underground service line is a problem. They'll say there's a 17 year warranty on the pipes so that if something leaks, you're covered. Others will say there's no problem if the fittings are copper. I'm providing a few links so you to make your own judgement. Pictures of poybutylene are at the bottom of this page.
My personal opinion:
A friend of mine had a polybutylene pipe burst in the middle of his wall. It was quite a mess. He recovered some money from the class action lawsuit but who needs the hassle. Also, how can you make up for the loss of many personal items such as family pictures? To collect from the class action lawsuit you first need a leak to occur. A leak in an upper floor can really cause a lot of damage throughout a house, especially if it happens when you're away for a few days. I just would not buy a house with polybutylene. If I did, I would make sure that the price reflected the cost of getting the pipes replaced with copper. Plumbing Express is a company that specializes in this. Cost for retrofitting a house ranges from $5000-$10,000. If you don't do this, you'll have a difficult time when you go to sell your home. It's a shame that this product was used so much in order to save a little in the cost of a new home.
A good overall report: http://ag.arizona.edu/AZWATER/awr/nov94/leaks.html

Class action home pages: www.kinsella.com/polybutylene/index.htm
www.spencerclass.com/index2.htm
Plumbing Express: www.polybutylene.com



Problem Sidings

There are some wood fiber siding products that have been deemed to be defective and have class action suits against them, Louisiana Pacific(LP), Masonite, and Georgia Pacific. There are a lot details as far as what sort of settlement is available so you need to go to the following links to read the details.
http://www.lpsidingclaims.com/
http://www.masoniteclaims.com/
http://www.badsiding.com/Georgia%20Pacific.htm

Many times when any of these sidings have been well maintained, ie. painted well along the drip edge, there never is a problem. Usually the first indication of problems will be seen by looking up at the chimney chase. This area is usually the most exposed and the first to deteriorate. Look at how much the bottom edge of each board has swollen up. Compare it to some boards that are really protected from the elements.
Summary:
There is a lot of things to be aware of when buying a home. Knowing what to look for is a big help. We're not experts in everything but we can usually steer you in the right direction. That is why it's so important to have your prospective home inspected by a professional.
If you are not certain whether a home has a particular product or not, you might want to insert a special stipulation into your contract stating that if it does have a particular product, you have the right to terminate the contract.
Search, Learn & Save
Get the best mortgage
Paul Cook, Post Creek Mortgage 678-631-3217
Choosing how to hold properties
Larry Feldman, real estate attorney
Popular Pages
Recommended Professionals:
Atlanta Home Loans
Get pre-approved and shop rates
Where We Do Business
Our market area is in the north metro Atlanta area. We service Cobb County, north Fulton County, Dekalb County, Forsyth County and Gwinnett County. We are very familiar with Sandy Springs, Dunwoody, Marietta, Roswell, Alpharetta, Buckhead, and Midtown.
We have sold homes inside the perimeter and outside the perimeter. We can't know everything so for clients who want to look for property in Peachtree City, Newnan, Stone Mountain, Douglasville, Macon and areas further out we will gladly recommend a good agent who specializes in those areas.
We help buyers negotiate with builders for residential new construction houses. New houses in Atlanta are hot right now. We can represent you in the purchase of your new house built by any of the following builders: Torrey Homes, MDC Homes, Centex Homes, Pulte Homes, Morrison Homes, Ryland Homes, John Wieland Homes, Winmark Homes, Meridian Homes, John Willis Homes, Benchmark Homes and many more home builders.
We can help clients find short term apartments for rent but normally we don't work with clients who are just looking for rentals. We do help clients find Atlanta condos. We can also help you purchase HUD homes in Atlanta. We are an authorized agent with them and have the HUD key to get into HUD homes. We have access to foreclosure homes that banks want to sell.
We love showing executive homes and luxury homes. We always like to know how people find our site. Send us an email and tell us which search term you used. Some terms that we might be found by are realty Atlanta, Ga homes, Atlanta realty, condos Atlanta, Atlanta realestate, Atlanta property, houses Atlanta, Atlanta realtors, Ga houses, or realtors Atlanta. Maybe you found us by typing in Atlanta MLS listings, or Atlanta MLS search, or MLS Atlanta GA. Hopefully we don't come up under nursing homes or funeral homes.
It is always amazing to me how the Internet can allow total strangers to find each other and build new business relationships. It truly is becoming a small, interconnected world.
Popular Pages
Earn Money and Have Fun
Atlanta Paid Focus Groups
Chicago Paid Focus Groups
Dallas Paid Focus Groups
Boston Paid Focus Groups
Houston Paid Focus Groups
Free Government Cell Phones