Atlanta Real Estate Market Stats
Cobb Northwest, FMLS Area 75
(see map below)
To get the most recent charts for Cobb Northwest, FMLS Area 75, please sign up below.
You'll get instant access to charts for sales, inventory, days on the market and the new "Maitski Line Charts" for the absorption rates.
How to Use the NEW "Maitski Line Reports" to Get an Idea About Which Way Homes Prices Are Going
For years I have been putting out monthly price charts for single family home prices in Atlanta.
This chart shows the number of sales per month (demand) vs. the price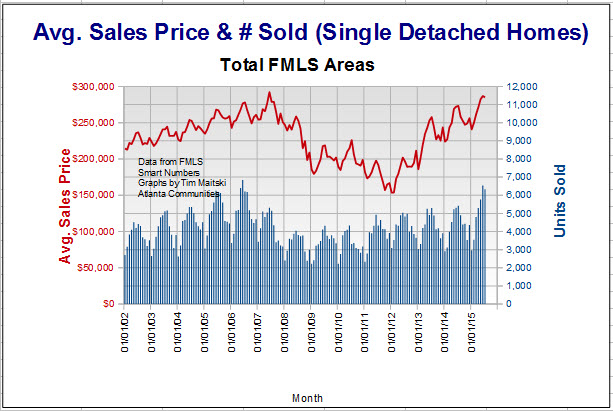 It's nice to see what has happened but it does nothing to predict the future of prices.
Then I began tracking the inventory of single family detached homes (supply).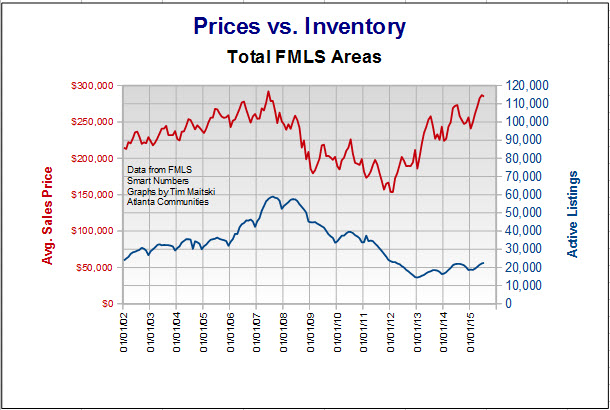 The key "aha moment" was when I took a look at the ratio of inventory/sales. You can call it the supply/demand ratio (Absorption rate). I divided the monthly inventory of homes by the monthly number of sales and plotted it against the monthly sales prices. I had never seen a chart of absorption rates over any significant length of time plotted alongside home prices.
Since we've had some of the most dramatic price moves in Atlanta real estate over the past ten years, the thought was that I might be able to see how prices and absorption rate are correlated and possibly see if it could be used as a leading indicator.
In the chart below, pay attention the blue line (Inventory/Sales Ratio). When it stayed above its historic range (between the two green lines), in 2007 prices soon fall. When it fell below its historic range, in 2012 prices soon rose dramatically.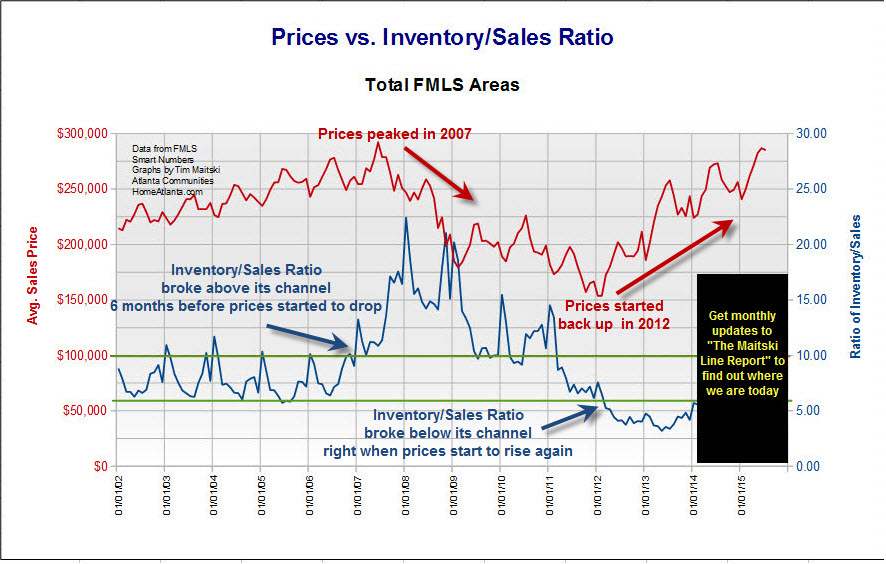 In the chart below, notice how the seasonal peaks and valleys of the Inventory/Sales ratio (the blue line) corresponds with the seasonal peaks and valleys of prices (the red line).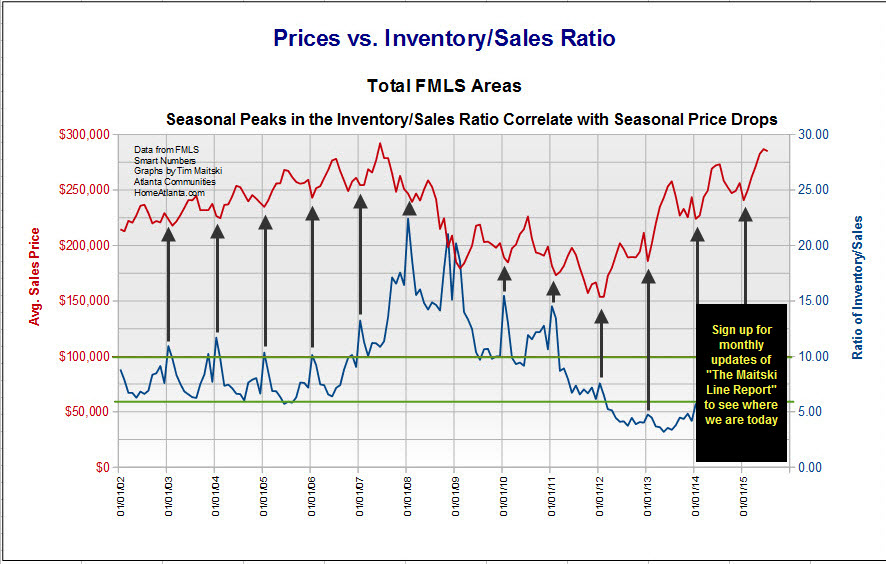 Every year in January, when the inventory/sales ratio peaks (more supply than demand) prices seem to be at their seasonal lows. When the tables turn in the summer (low supply and high demand) prices are at their seasonal highs. This is a picture of supply and demand in action. It validates the correlation of this indicator to prices on a yearly basis and therefore should correlate to the longer real estate cycles. Taking advantage of these longer real estate cycles is what we are really after. We all got a wake up call repeating the mantra that real estate prices can only go up.
You can also see that the inventory/sales ratio stayed in the fairly tight band, between 6 and 10, between 2002 to 2006. This was a time when prices in Atlanta were rising steadily at about 4.5% per year.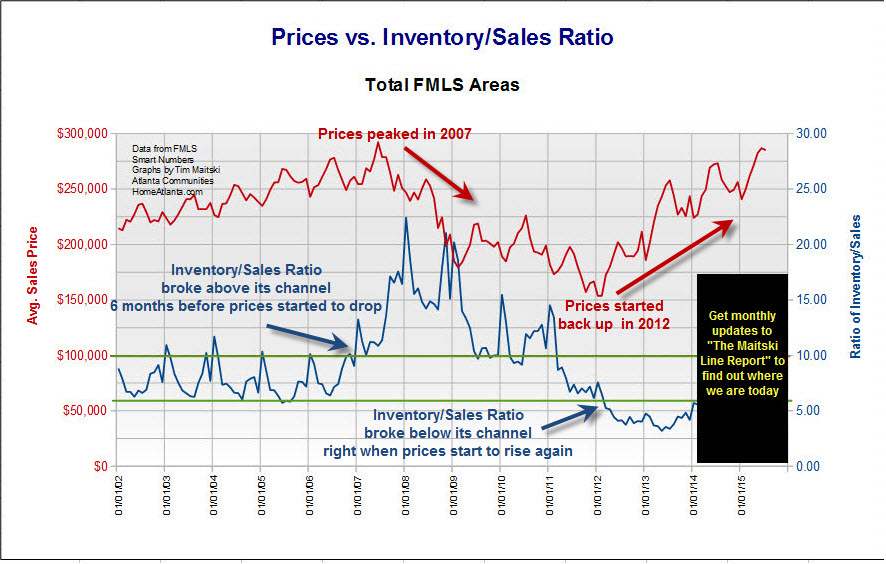 Look at what happened when that ratio went above 10 and kept going up in the spring of 2007. 6-12 months later prices started to fall. There was too much supply and not enough demand and therefore prices started to adjust. Real estate isn't liquid like stocks and bonds. It takes months instead of seconds for prices to adjust. Therefore you have some time to take advantage of the information.
Prices kept falling until the inventory/sales ratio fell to below 6 in the spring of 2012. Since then, the inventory/sales ratio has been below six and prices have risen by 52% from their lows. Supply is low while demand is high and therefore the prices have adjusted higher.
To smooth out the seasonality noise, I plotted a twelve month moving average. With the chart below, follow the blue line, the 12 month moving average for the inventory/sales ratio (absorption rate). A rise to above 10 preceded the start of the fall in prices in 2007. I call this "The Maitski Sell Line". If you were thinking of selling, that would have been a great time to get out near the top. If you were thinking of buying, that would have been a great time to wait it out and rent instead.
When the blue line fell below 6 in 2012, shortly thereafter prices increased sharply. I call this "The Maitski Buy Line". That was the time to buy if you were renting. If you owned a home and wanted to sell, it might have been a time to wait, if possible, knowing that prices would eventually go higher.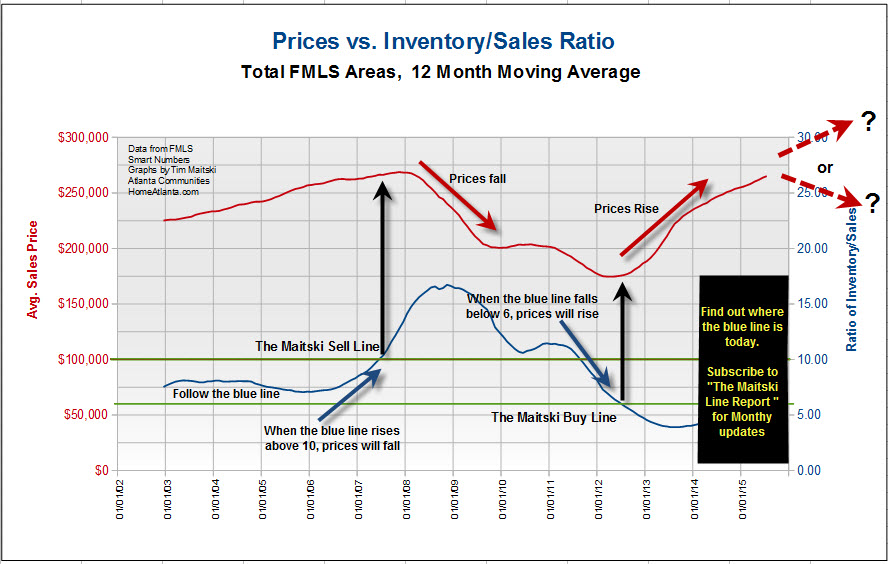 Of course, past performance is no guarantee of future performance, but taken along with other statistics, such as total days on the market, one can have an objective indicator on which to base a buy/sell decision on. History never repeats itself exactly but it's worthwhile to study past patterns and apply them to today's market.
My theory is based on simple economics. When the supply/demand ratio is outside of its historic channel, prices will change until that ratio gets back to normal levels.
If the ratio is high, prices will fall. If the ratio is low, prices will rise.
To find out where the blue line is today, sign up for the monthly updates in the box below. I not only have the charts I created for the overall Atlanta area, I have detailed charts for 37 more localized areas around Atlanta.
For more localized statistics, please click on the map area or the links below.

Metro Atlanta Real Estate Market Stats (All FMLS Areas)

Clayton County Real Estate Market Stats (Area 161)

Cobb County Real Estate Market Stats, South (Area 72)
Cobb County Real Estate Market Stats, South Central (Area 73)
Cobb County Real Estate Market Stats, West (Area 74)
Cobb County Real Estate Market Stats, Northwest (Area 75)
Cobb County Real Estate Market Stats, Northeast (Area 81)
Cobb County Real Estate Market Stats, East Central (Area 82)
Cobb County Real Estate Market Stats, East South (Area 83)

DeKalb County Real Estate Market Stats, Tucker (Area 41)
DeKalb County Real Estate Market Stats, Stone Mountain (Area 42)
DeKalb County Real Estate Market Stats, South (Area 43)
DeKalb County Real Estate Market Stats, Decatur (Area 52)
DeKalb County Real Estate Market Stats, Dunwoody (Area 121)
DeKalb County Real Estate Market Stats, Chamblee (Area 51)
DeKalb County Real Estate Market Stats, Candler Park, Kirkwood (Area 24)
DeKalb County Real Estate Market Stats, East Atlanta, Gresham Park (Area 53)

Forsyth County Real Estate Market Stats, East (Area 221)
Forsyth County Real Estate Market Stats, West (Area 222)
Forsyth County Real Estate Market Stats, Northwest (Area 223)


Fulton County Real Estate Market Stats, Alpharetta/Roswell (Area 13)
Fulton County Real Estate Market Stats, Alpharetta (Area 14)
Fulton County Real Estate Market Stats, Buckhead (Area 21)
Fulton County Real Estate Market Stats, Bankhead Hwy. (Area 22)
Fulton County Real Estate Market Stats, Midtown (Area 23)
Fulton County Real Estate Market Stats, West End (Area 31)
Fulton County Real Estate Market Stats, South Fulton (Area 33)
Fulton County Real Estate Market Stats, Sandy Springs (Area 131)
Fulton County Real Estate Market Stats, Sandy Springs (Area 132)
Fulton County Real Estate Market Stats, Grant Park, Lakewood (Area 32)


Gwinnett County Real Estate Market Stats, Norcross (Area 61)
Gwinnett County Real Estate Market Stats, Duluth/Buford (Area 62)
Gwinnett County Real Estate Market Stats, Lawrenceville (Area 63)
Gwinnett County Real Estate Market Stats, Lilburn (Area 64)
Gwinnett County Real Estate Market Stats, Snellville (Area 65)
Gwinnett County Real Estate Market Stats, Grayson (Area 66)

Cherokee County Real Estate Market Stats, Woodstock (Area 112)
Cherokee County Real Estate Market Stats, Canton SE(Area 113)
Keep Your Transaction Costs to a Minimum
If you buy a home with me and then want to sell within one year due to a "Maitski Sell Signal", I will sell your home for a total of 4.5% commission instead of my customary 6% commission
Use Us as Your Buyer's Agent
Collect a Rebate for 50% of Our Commission
It's Our "Referral Fee" to You for Finding Us on the Internet
No Upfront Fees, No Cost to You Whatsoever